At the beginning of February, we have a traditional event called "Setsubunせつぶん." Have you heard about it? In this article, you'll know what Setsubun is and learn some Setsubun related words. You can also download the word list, an easy recipe and kid's activity to enjoy Setsubun at your home! 
Download your Setsubun mini e-book
Watch this Video lesson
What is Setsubun?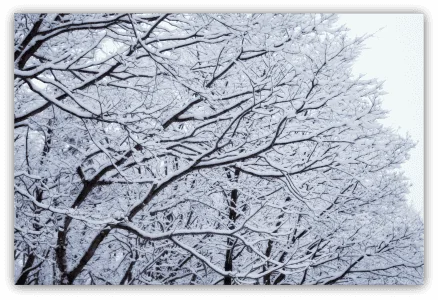 "せつぶんSetsubun" is an event happened the day before the "first day of Spring (りっしゅん)" in the Japanese calendar.
It means the last day of Winter, "ふゆ fuyu." Setsubun is usually on the 3rd of February.
This event is for getting away "おにOni," evil spirits.
What are we doing in Setsubun?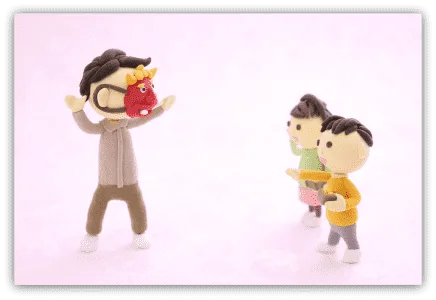 People throw away roasted soybeans, shouting,
"Oni wa soto, Fuku wa uchi おには そと、ふくは うち."
It means "Evil spirits Out! Good luck In!"
We call it "mamemakiまめまき," scattering beans.
"Oniおに" represents bad luck, disease, or disaster.
Magical soybeans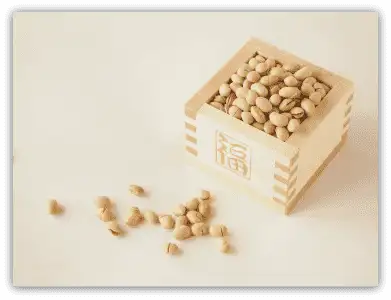 People scatter "mameまめ(beans)" to drive away evil spirits and bring in good fortune.
In Setsubun, roasted soybeans are usually used.
You can download an easy roasted soybeans recipe HERE. 
After throwing some roasted soybeans to drive Oni out of the house, we eat the same number of beans as our age to wish for good health.
What does Oni dislike?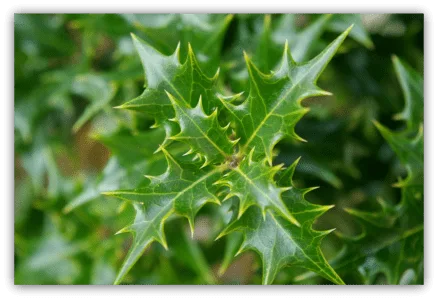 In some area, people display "Yaikagashi やいかがし" which is branches of holly with a head of the sardine.
Apparently, Oni dislike the sharpness of holly leaves and the smell of sardine head!
Special Setsubun food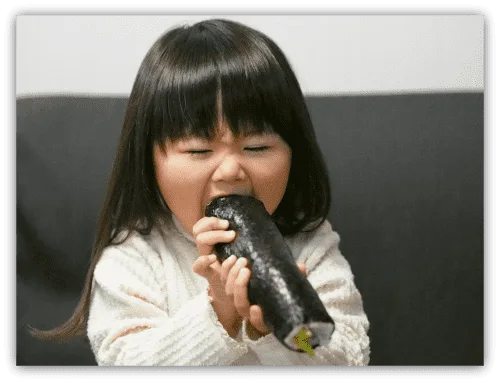 Recently, many people eat "ehōmaki えほうまき."
Ehōmaki is a sushi roll. You must not slice this sushi roll. Hold it and eat all in one go while facing the year's lucky direction (Ehō えほう) based on Japanese traditional calendar.
Setsubun Events you can go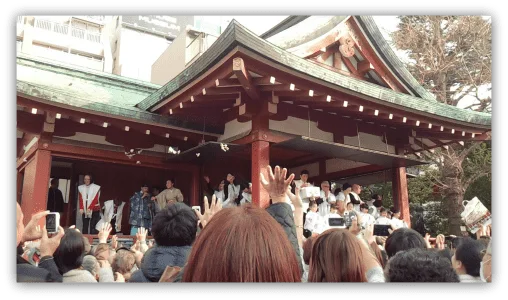 There are many Setsubun events held in temples and shrines.
In these events, celebrities appear on a stage and scatter not only beans but sweets or some prizes.
A lot of People gather to get these lucky prizes.
Spring is coming, finally!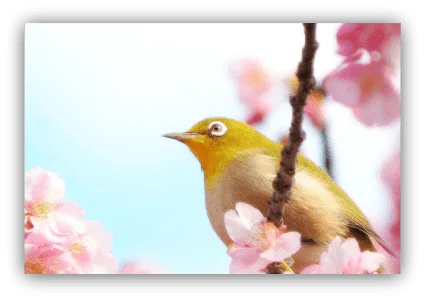 After Setsubun finished, Spring (haru はる) comes!.
In February, It's still cold in most areas in Japan but the day is getting longer.
Setsubun tells us that the winter is over. Now you are ready to enjoy lovely spring days.
Would you like to try this event in your home? Kids love it!
You can download all Setsubun words, an easy "mame まめ" recipe and simple and fun origami activity, even preschoolers can make.
Have you ever joined any Setsubun events? Have you ever scattered まめmame at home? Please post below and let me know.