Have you finished Hiragana? Great!
Shall we begin learning Katakana?
Further to 8 reasons why you should learn Hiragana, which are as applicable to Katakana, I can suggest 3 more reasons why Katakana is useful for you.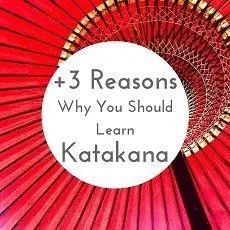 1. Katakana is used for foreign words
We use Katakana to express foreign sounds into Japanese. The most important word is your name! After learning Katakana, you can write down your name!
2. There are some Katakana-only sounds
Since we use Katakana to write foreign words, we have invented some special sounds only for Katakana to mimic the sound which come from other language. These sounds make Katakana special and you have to pay extra attention to memorize them!
3. Katakana words are super easy to remember!
You can find many Katakana words which sound familiar. This similarity makes Katakana easier to memorize. It is a good news, isn't it?

Are you ready? Let's start learning Katakana!

Katakana Learning Course contents
3 More Reasons why you should learn Katakana (this post)
More Katakana Letters – Dakuon and Handakuon
Some More Katakana letters – Long Vowels and Small "ツ"