If you'd like to build up your vocabulary, Anki is one of the best apps. Not only me, but many Japanese learners choose it.
Anki is an intelligent flashcard app.
You can customize it, add new words easily and quickly and use it on any device, anywhere, anytime.
As a teacher, I saw many times that the students who use Anki often improved their vocabulary skill dramatically. When they encounter a new word, they open their phone or laptop, add a new card in their Anki deck and revise it regularly. They are like hunters. Once they find a target, they grab, bite and digest it.
It is super useful study tool. 
The only problem is, Anki looks a bit scary for the non-tech person like me. It's not intuitive to use.
Some of my students struggled to use Anki.
"I heard that some use Anki, but I have never understood how to use it and gave up!" Tina
And Tina san is not the only one.
So I asked my tech-talented student, Carmilla san to tell us how to use Anki.
She accepted kindly and created fantastic presentations. (I love you, Carmilla san)
She uses AnkiDroid, Anki app for Android devices. If you use the other version of Anki, it may look different, but I'm sure you can get the valuable insight how to use Anki for your Japanese study.
Let's start!
****Would you like to get your tutorial for your reference? You can download it! ****
No time to Read? Watch it!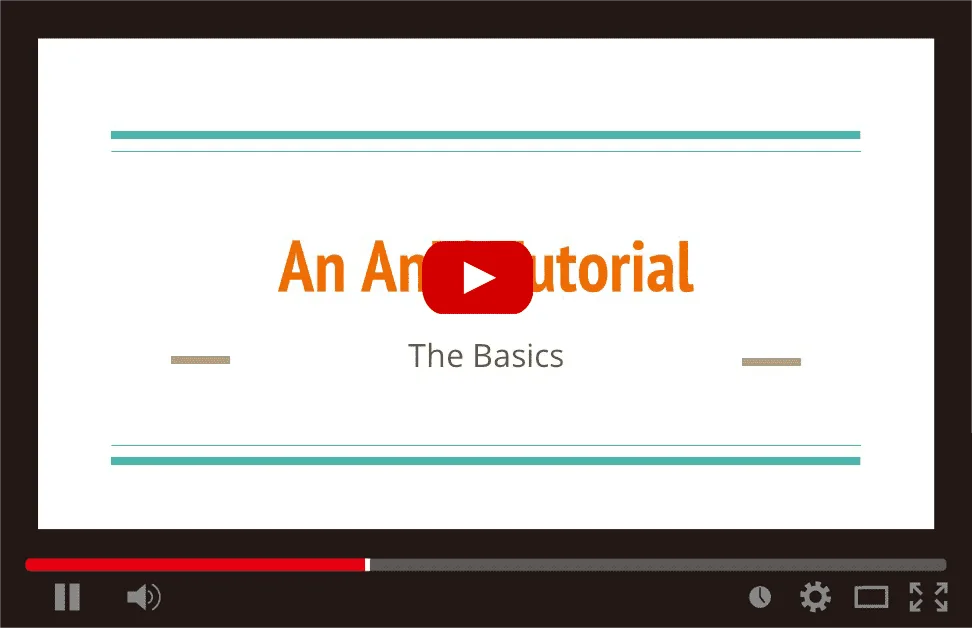 Anki and AnkiDroid tutorial
What are they, and what are they used for?
Anki is a program for using digital flashcards in decks. AnkiDroid is the version for Android mobile phones. Multiple decks can be created, covering topics from Japanese to Pokémon names. This guide currently only contains a tutorial for AnkiDroid.
You can download Anki app here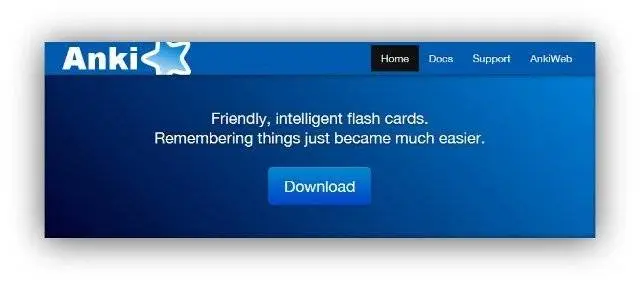 Introduction to AnkiDroid
Here is an example of what AnkiDroid can look like.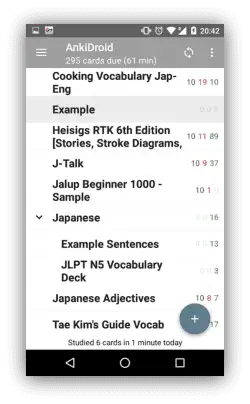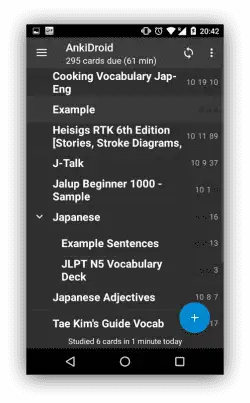 It has a day mode and a night mode. At the top you can see how many cards I have left to review. The deck names are the ones in bold. I have many decks here, you will need to create or import decks yourself. The numbers by the decks show how many cards I have left in that deck. I will go through that in more detail later.
Creating a new deck
To create a new deck press the plus button in a circle with a + sign inside.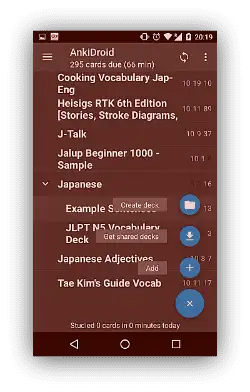 This will bring up a few options. To create a new deck press the Create Deck option next to a picture of a folder.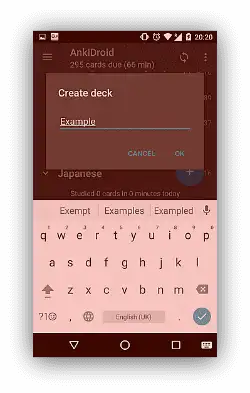 Choose a name for your deck. When done press the OK button.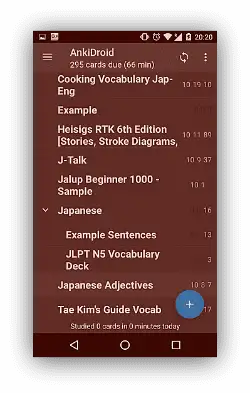 When done you should be able to see your deck in the list. I suggest using one deck for most of your Japanese.
Adding new cards Part 1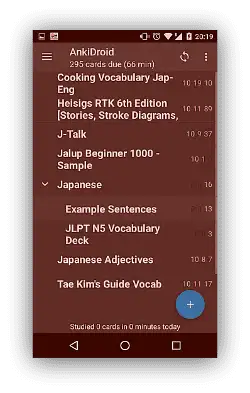 Press the circle with a + sign in.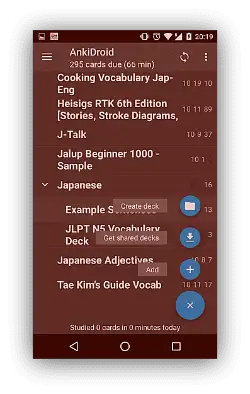 This will bring up a few options. This time I want you to press the one saying "Add" with a picture of a + sign next to it.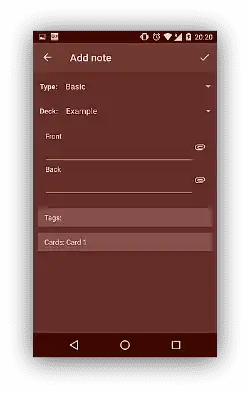 In the "Deck:" section check that it says the deck you just created, in my case this is "Example". If not just press the little arrow and select the deck you wish to add the card to from the list which appears on screen.
There are a few types of card. I would recommend using "Basic" or "Basic (and reversed card)". A flashcard typically has a front and a back. The front is the prompt for the information you're trying to remember and the back is the answer. The Basic type creates one card with the front and the back you write.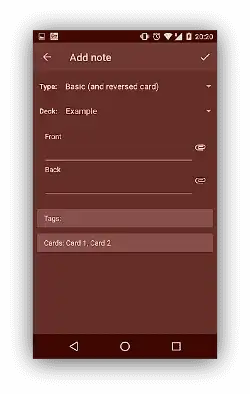 The other type I mentioned creates that and also another card with the front and back reversed.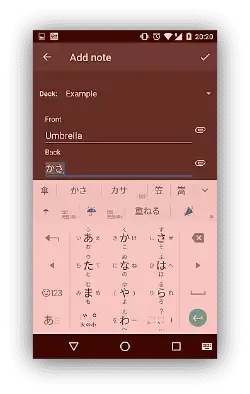 I recommend putting in both the Kana and the Kanji for Japanese flashcards.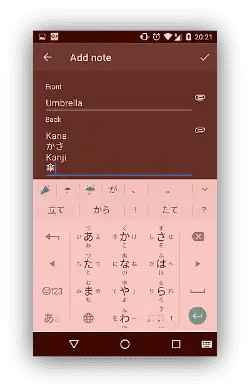 The reversed card can be very useful, since it allows you to test both your recollection of the Japanese when given the English word, and vice versa.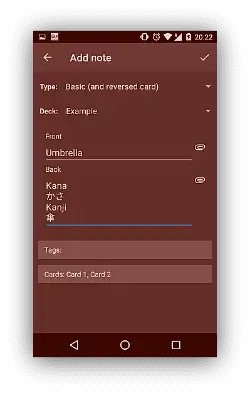 When you're done creating a new card you press the tick symbol on the right side at the top of the screen. A new empty card will appear.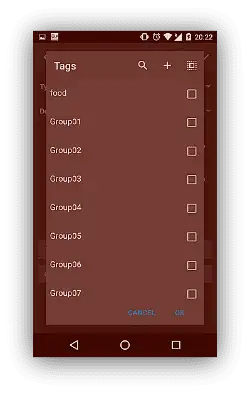 Before that you might want to add some tags, though.
You can select tags for your cards. The tags provide a way for you to easily search for specific types of cards later.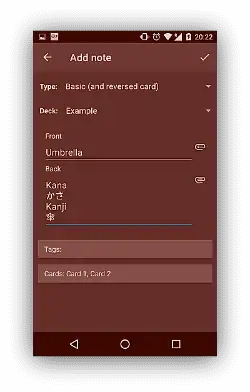 You can select tags by pressing the section which says "Tags:".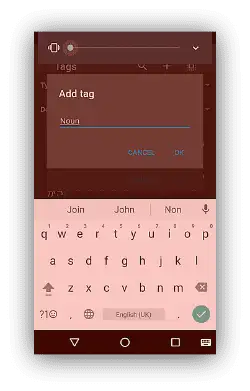 You can add a new tag by pressing the + symbol. You will need to write in the tag name.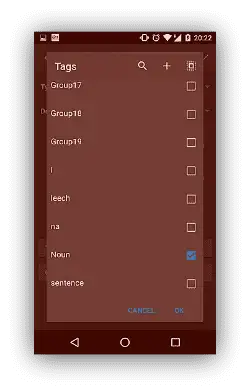 To select a tag you press the box next to it.
Importing a deck
If you want to use an existing deck you can press the circle with a + in it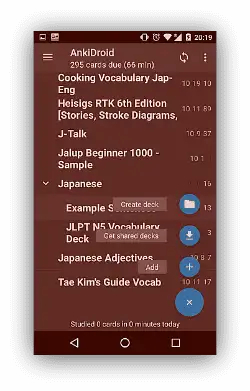 and select the "Get shared decks" option.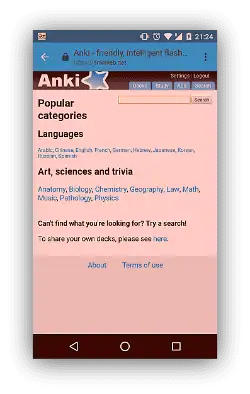 This will open up the Anki website. You can select one of the popular categories by pressing it. Alternatively you can search for something using the search bar.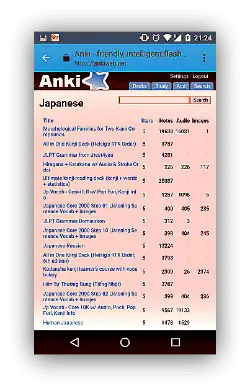 In this example I press the word "Japanese" in the "Languages" section. Scroll through until you find a deck you like, or use the search, then select the deck name.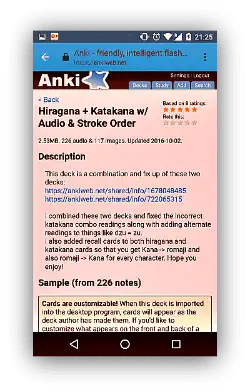 Here is an example of what appears when you select a deck.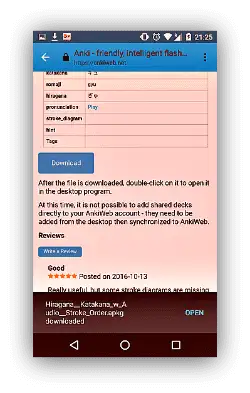 If you like the look of the deck then scroll down and press the "Download" button.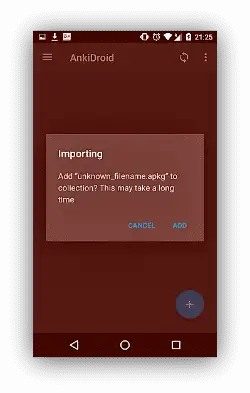 After you have approved the download and it has finished downloading you should get a pop-up at the bottom of the page. Press the "OPEN" button. You will be back in AnkiDroid and be asked if you wish to import the deck. Select "ADD" and the deck will be added to your library.
Reviewing Cards
Select the deck you want to use. In this case we will use the one called "Example".
You will be shown the front of one of the cards from your deck. Your deck name is at the top. On the top right you can also see the seconds counting up, this is how long you've been looking at the card.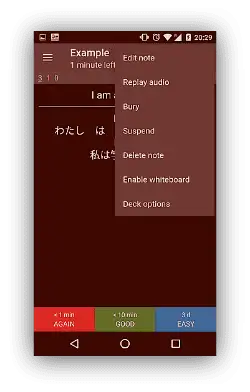 You can press the 3 vertical dots to bring up a menu. Here you can edit or delete the card, as well as setting some other options.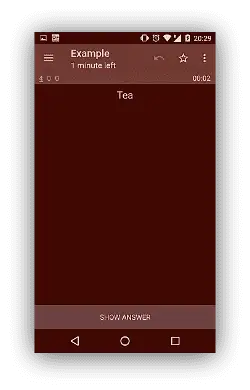 You need to try and remember what the back of the card says, in this case "おちゃ". Once you think you have the answer, or give up, press "SHOW ANSWER".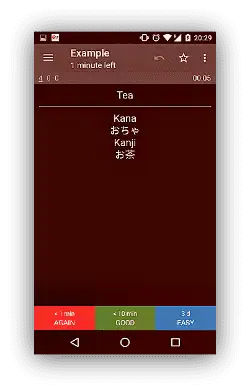 Were you correct? If you got it wrong or really struggled press the AGAIN option. If you thought it was okay then press GOOD. If you found this card very easy, then press EASY. Be honest, otherwise you won't learn properly. The time indicates how long until AnkiDroid shows you the card again.
Each day you get shown some new cards from your deck you haven't learnt before.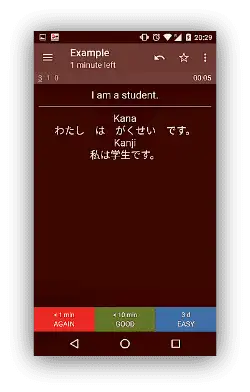 The number of these cards you have left to do today is shown in the first number, top left. You also get shown old cards. The number of these is shown by the third number. The middle number shows the new cards which you've only reviewed once which you have left. The new cards you've just seen will move to the red section, until you see them the second time.
Before I showed you how new cards get shown when you press show answer.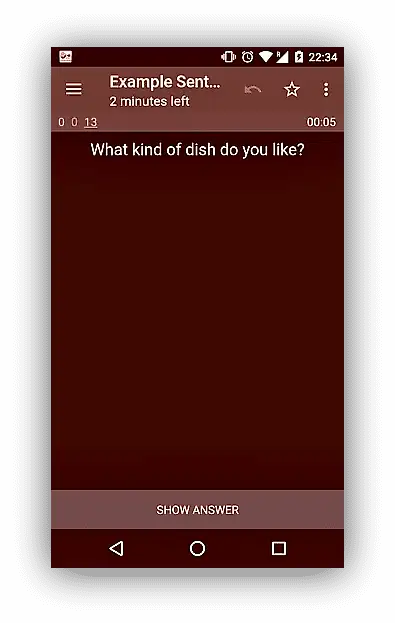 Here is an example of one of my older cards. Here you have 4 options:
AGAIN – Used for when you completely forgot what the answer was meant to be and need to start from scratch.
HARD – Used for when you almost got the answer right, or it took you a very long time.
GOOD – Used for when you remembered the answer.
EASY – Used for when you knew the answer without even needing to think about it.
It's important to always answer honestly, even it was "AGAIN", since to get the answer into long term memory you need the time intervals between seeing the card to be correct, if the interval is way too long or short you will have a hard time.
Menu & Card Browser
In the top left there are 3 lines.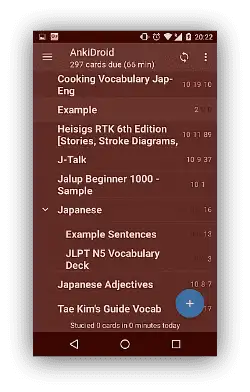 This is the menu.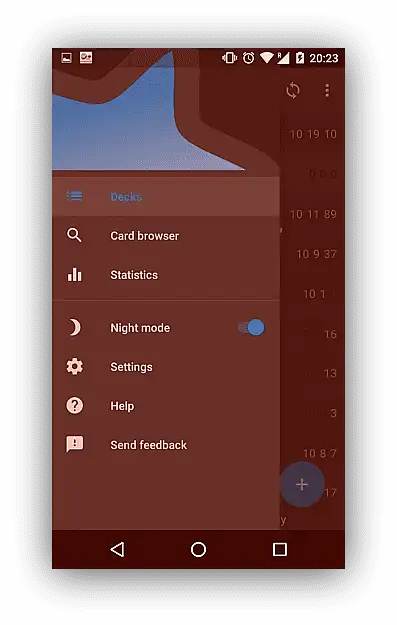 If you press it this menu will be shown. To browse your cards, select the "Card browser" option.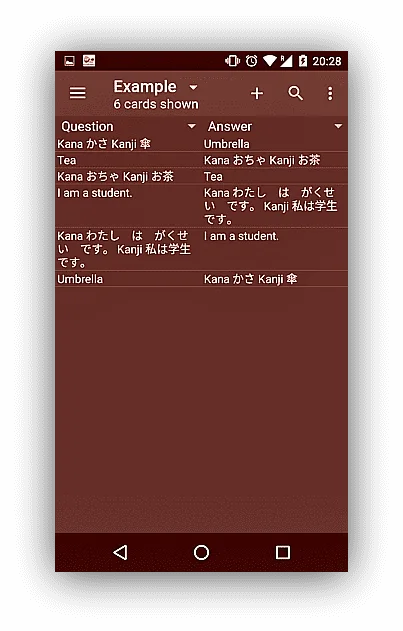 The deck you are browsing is shown at the top. All of your cards in the selected deck are shown here. You can search for specific ones using the magnifying glass. You can add new cards using the … menu.
Settings
Open up the menu.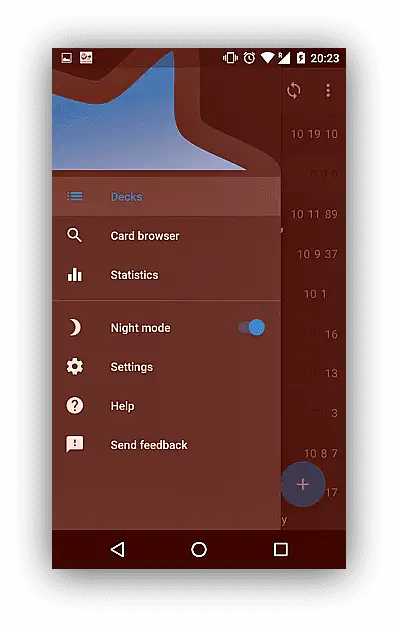 Currently I am in night mode, you can select this to change the mode to day mode.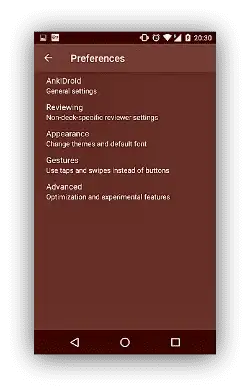 If you go on the "Settings" option then you get the "Preferences" menu shown opposite. Here are all the main settings.
If you press the "AnkiDroid" option then you can change some basic settings, like the language used by the app.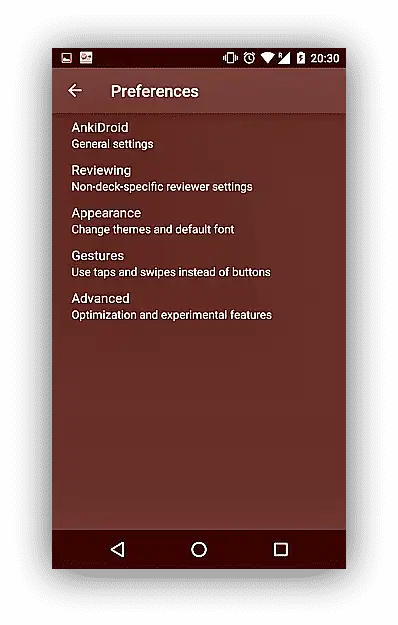 From the "Preferences" section there are a few other options.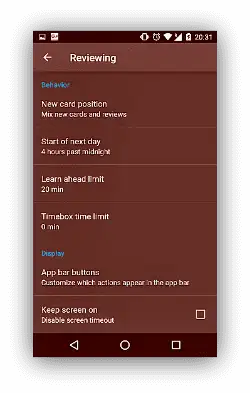 Select "Reviewing". In the "Behaviour" section you can choose how new cards are given to you, when the day ticks over to give you new cards etc.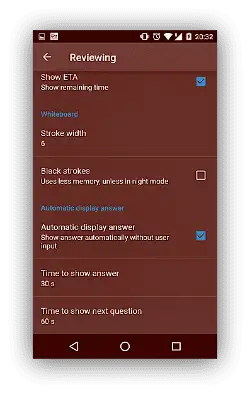 There is also an option called "Automatic display answer" which when turned on shows you the back of the card after chosen time. I have this turned off, but some people like to use it.
There are many other settings you can look through, too.
More Advanced Cards
In this tutorial I have only shown you how to make basic cards; however, you can also create cards with sound files and pictures included. Especially the sound clips, if you can find ones by native speakers, can be very helpful when learning. You can also use card types which are designed especially for learning Japanese, where you can input the Kanji, Furigana, English, audio, example sentences etc in specific fields. I suggest playing around with the different card types.
General Advice
It might be easier to use premade decks, since you don't have to create one yourself, but I really think that keeping your own deck is really useful too. I have a premade one with JLPT 5 words, but I found that the deck which I get the most use out of is the one which I've added to myself as I've been learning Japanese. Whenever you learn anything new add it to your deck. That way you won't forget it. People generally recommend using one deck per overall subject you're learning, like Japanese. At most divide it into types of studying. I also really recommend having cards with sentences on in your deck. If you add multiple cards with sentences using grammar you've learnt into your deck you really solidify the grammar in your long term memory. These sentences should ideally be in the same deck as your normal Japanese flashcards, since if they're separate then it's easier to avoid practicing the more annoying sentence cards.
By Carmilla Westin
****You can download your Anki & AnkiDroid Tutorial.****
Thank you, Carmilla san, for creating the wonderful tutorial! 
Have you ever used Anki? How do you use it for your Japanese study?
It would be great if you post your comment below and share your experience!